Havells Hair Dryer HD3151/HD3152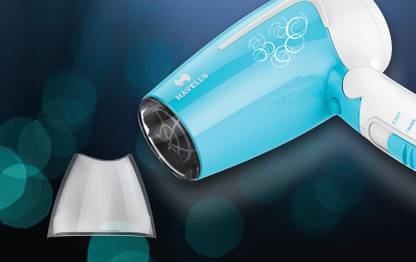 Today we all are running out of time.To save time we use Technological Gadgets and Electronic instruments to make our work quick and easy. Now we are going to look into that type of Product which may impact our daily life to dry our Hair. If we try to dry our hair it will take more than 15 minutes. To make it quick you have to buy the Best Hair blow Dryer to do that Job. We have found one Cheap and Best and more reliable Hair Dryer from Havells which will come under your Budget. Please keep on staying with the post till end to know more about this Product.
How to Choose Hair Dryer:-
First you have to choose your hair type and Then choose which hair dryer is best fit to you.
If you hair is curly then buy a diffuser type hair dryer or if your hair is straight, long, thick or thin then buy a concentrator type hair dryer
Havells compact hair dryer HD 3151/3152 Specification
Upto 1600 watt powerful dryer
It has three heat settings
One speed setting
Concentrator detachable
1.6m Power cord
Pros
▶ 3 Heat setting mode
▶ It has foldable handle
▶ It works efficiently
▶ 3 Mode heat setting
Mode 1 – Room temperature
Mode 2- Warm temperature
Mode 3 – Hot temperature
Cons
▶ It produce noise
▶ while working in high temperature it smell like burning

We highly recommend you to Buy this Product from Amazon as they are good at after Sales Customer care Support. If you have any issues they will resolve the Problem as soon as possible.