India's National Flag Quiz Question & Answers
The Indian national flag, also called Tiranga or Tri-color, is a horizontal tricolour of deep saffron at the top, white in the middle and dark green at the bottom in 3:2 proportion. In the center, a navy blue wheel which represents the chakra. The design is that of the wheel which appears on the Sarnath pillar of Ashoka (250 BCE). It was adopted in its present form during a meeting of the Constituency Assembly at the Indian Parliament on 22 July 1947 and was subsequently adopted by the Constituency Assembly of the Dominion of India on 15 July 1947.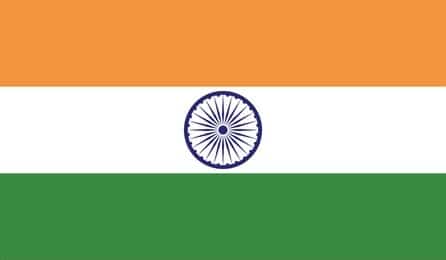 The National Flag was designed by – Pingali Venkayya from Andhra Pradesh
The First Indian Flag was Woven at – Gudiyatham in Vellore District of TamilNadu
India's National Flag was hoisted for the first time by – Jawaharlal Nehru on 25th August 1947 at Red fort
The first Flag is now an exhibit at – St. George Fort Museum, Chennai
What are the Colors in Our National Flag (India)? – Saffron, White, Green
Indian National Flag's Length and Width Proportion: 3:2
The Ashoka Chakra or Wheel is in which Color – Navy Blue
The Ashoka Chakra has how many Spokes – 24 Spokes
National Emblem of India
The National Emblem was accepted on – 26, January 1950
Satyameva Jayate has been inscribed on the bottom of the National Emblem
How many Lions are present in our National Emblem – Four Lions
What is the meaning of Satyameva Jayate – Truth alone Triumphs
Animals are present in the lower part of National Emblem – An Elephant, a Horse, a Bull, and a Lion
National Anthem
"Jana Gana Mana" – is Our National Anthem
National Anthem was written by Rabindranath Tagore
National Anthem was transcripted in Hindi and was accepted by the Constituent Assembly on – 24th January 1950
National Anthem has to be sung at the duration of – 52 Seconds
On 27th December 1911, the National Anthem was sung for the first time during the Congress committee meet held at Kolkata
National Song
The National Song Vande Mataram was composed by – Bakim Chandra Chatterjee
On 24, January 1950, the then President Dr Rajendra Prasad came up with a statement in the Constituent Assembly, " the song Vande Mataram, which has played a historic part in the struggle for India Freedom, shall be honoured equally with Jana Gana Mana and shall have equal status with it.
The National Song Vande Mataram was a part of Bakim Chandra Chatterjee's most famous Novel "Anand Math"
National Pledge:
"India is my Country, All Indians are my Brothers and Sisters" is our National Pledge
National Pledge was written by – Pydimarri Venkata Subba Rao in Telugu
Currency of India – INR
The Indian Currency is the Indian Rupees
The Currency released by Shershah Sur in the 16th Century was "Rupiya"
The Symbol of the Rupee is ₹
Rupee Symbol was designed by D. Udhayakumar from Tamil Nadu in the year 2010
Natural National Symbols of India
| | |
| --- | --- |
| National Tree | Banyan Tree (1950) |
| National Flower | Lotus (1950) |
| National Bird | Peacock (1965) |
| National Animal | Tiger (1973) |
| National River | River Ganges (2008) |
| National Heritage Animal | Elephant (2010) |
| National Aquatic Animal | River Dolphins (2010) |
| National Micro Organism | Lacto Bacillus (2012) |
| National Reptile | King Cobra (Ophiophagus Hannah) |
| National Fruit | Mango |
---
Useful Books for Competitive Exams:
✦ Download Adda24x7 Paid e-Books PDF
✦ Download All Arihant Publication Books PDF
✦ Download All Kiran Books PDF
✦ Download All History Books in PDF
✦ Download All General English Books PDF
✦ Download All Aptitude Books PDF
✦ Download All General Awareness Books PDF
✦ Download All Geography Books PDF
✦ Download All Economics Books PDF
✦ Download All Polity Books PDF
✦ Download All Banking Preparation Books PDF
✦ Download All SSC Preparation Books PDF
✦ Download All Disha Publication Books PDF

Best Books for Competitive Exams [PDF]
👉 Best Books for SSC Exam Download PDF
👉 Best Books for Railway Exams Download PDF
👉 TNPSC Preparation Books & Study Materials PDF
Disclaimer: Pavithran.Net doesn't aim to promote or condone piracy in any way. We do not own any of these books. We neither create nor scan this Book. The Images, Books & other Contents are copyrighted to their respective owners. We are providing the PDF of Books that are already available on the Internet, Websites, and Social Media like Facebook, Telegram, Whatsapp, etc. We highly encourage visitors to Buy the Original content from their Official Sites. If any way it violates the law or anybody has Copyright issues/ having discrepancies over this post, Please Take our Contact Page to get in touch with us. We will reply as soon as we receive your Mails.
🙏We Need Your Support. Please Share the Link if it is helpful to your Cherished circle🙏