Here get to know more about Arihant's English Grammar and Composition Book authored by SC Gupta available in PDF for download which is very useful for Competitive examinations written by SC Gupta.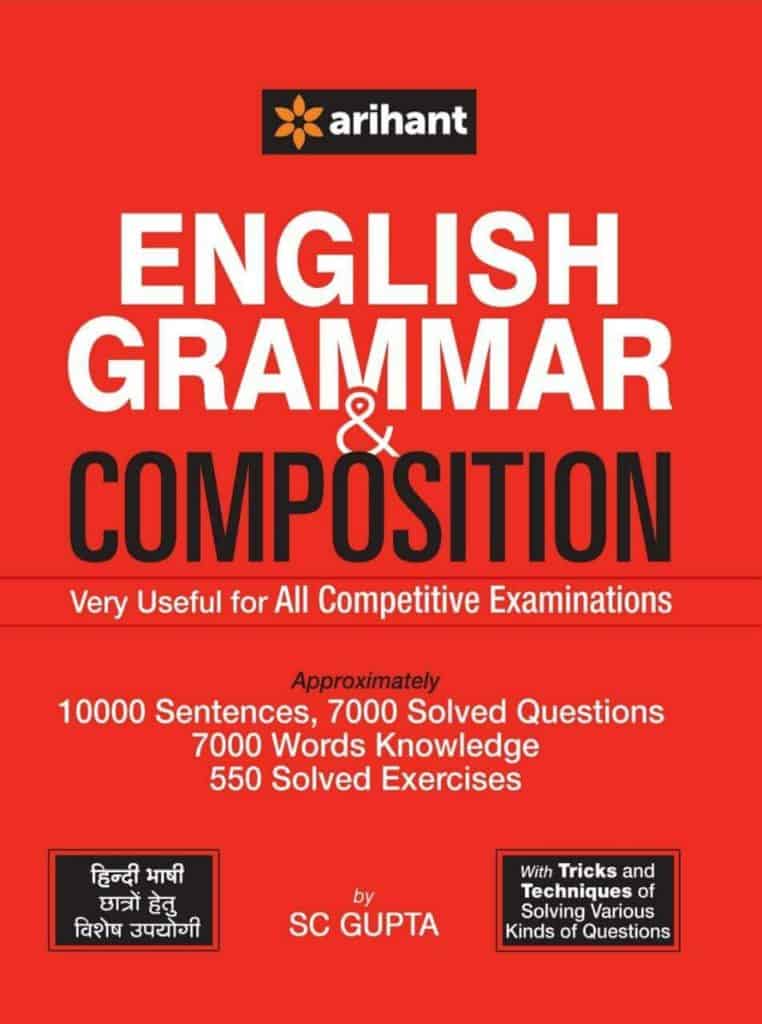 This Book contains 10000 Sentences, 7000 Solved Questions, 7000 Words Knowledge, 550 Solved Exercises with Tricks and Techniques of solving various kinds of questions.
English Grammar & Composition Book by Arihant
In this Book, explanations are given in Hindi. So for those who knows Hindi and want to learn English in your mother language of Hindi buy this Book and start preparing from today without easting your time.
Book Details:
| | |
| --- | --- |
| Book Name: | English Grammar and Composition by SC Gupta PDF download |
| Publisher: | Arihant Publications |
| No of Pages: | 975 pages |
| File Format: | PDF(Downloadable) |
| File Size: | 11 MB |
😀Want this e-Book at a 95% Discount Price!!
Buy the PDF Version of this Book at 95% OFF from the actual book price.
[Limited Time Offer]
Salient Features:
This book is more than enough for you to clear all the competitive exams to be it SSC, Banking or any other exams
Easy to understand and best even for beginners. Covers 69 Topics in-depth to master in English Grammar & composition.
With Tricks and Techniques of solving various kinds of questions
All in one book to learn and practice English Grammar for SSC CGL, CHSL, CPO, MTS, BANKING, etc.
PROS:
Master of All Grammar Books
It also explains the concept in Hindi & English as well
Topicwise Exercises and Practice Questions will help us score good marks in competitive exams.
CONS:
Not recommended for English only readers as it has half Hindi and half English explanation.
South-Indian people who don't know Hindi language do not buy this Book as you might struggle to understand the concepts due to Hindi explanation.
Content is useful but not upto the marks because of Language mix (explained partially in English & partially in Hindi).
Table of Content
Some Basic Terms of English
Know the English Fundamentals
Articles
Translation and Tense
Sequence of Tense
Noun
Determiners/Adjectives
Adverbs
The Verbs
Syntax: Subject-Verb Agreement
Non-Finite
Pronoun
Participle
Articles
Gerund
Reported Speech (Direct-Indirect Narrations)
Active Voice Passive Voice
Conjunctions
Transformation of Sentences
Preposition
A Few Proverbs
Conditional Sentences
The Interjection (!)
Sentence Structure and Analysis
Question Tag
Synthesis of Sentences
Unenglish & Superfluous Expressions
Question Framing
Use of Capital Letters and Punctuation
Formation of Words
Spelling Rules
Phrasal Verbs
Idioms and Phrases
Contents
Comprehension
One Word Substitutions
Antonyms
Related Pairs of Words
Specific Use of Words (Similar Meaning)
Ordering of Sentences
Hindi Words
Double Blanks in a Sentence
Word Power
Antonyms/Synonyms
Contronyms
Homographs
Synonyms
Homonyms
Spotting the Errors
Cloze Test/Cloze Passage
Miscellaneous Exercises (Correct the Sentences)
Heteronyms
Palindromes
Paronyms
Pangrams
Phrase Substitution or Sentence Improvement
Unusual Word Forms
Foreign Words
Group Terms
Choosing Appropriate Words
Some Peculiar Expressions
Animals, Males, Females, Youngs and Group Terms
Collective Names of Animals
Young Ones of Animals
Words Used as Different Parts of Speech
Words Used in the Constitution
Paragraph Writing
Letter Writing
Precis Writing
Report Writing
Words Never Used in Good Sense
Descriptive English by SP Bakshi PDF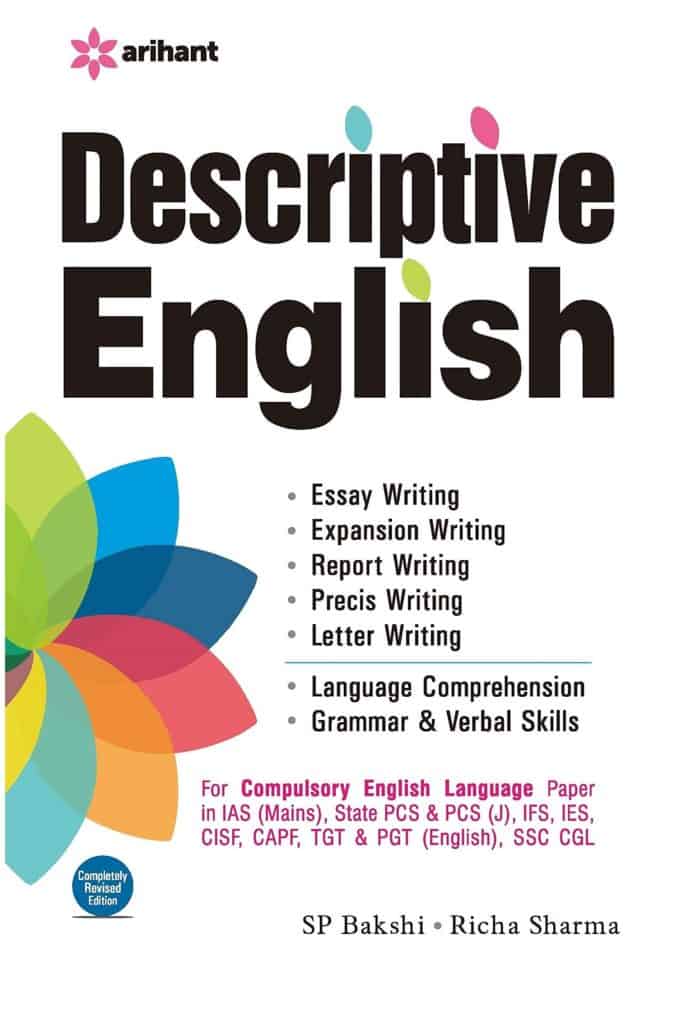 Features & Details:
Descriptive English Book published by Arihant Publications launched on 20 January 2020 (Second Edition). This book covers all aspects of the English language that help aspirants score high aggregate in the upcoming examinations.
Book Details:-
| | |
| --- | --- |
| Book Name: | Descriptive English |
| Author/Publisher: | SP Bakshi & Richa Sharma |
| Language: | English |
| No of Pages: | 704 Pages |
| File Type: | PDF (Downloadable) |
| File Size: | 99 MB |
FAQs:-
In Which Language this Book is Available?
It has an explanation in both languages – Hindi & English (Simple to understand)
Is this Book suitable for CBSE students?
Yes, It is suitable for CBSE students who are studying in 9th, 10th & 11th standard to prepare for English
Is this Book useful for UPSC Exams?
Yes, It is best to prepare for UPSC, SSC & Banking exams.
---
Useful Books for Competitive Exams:
✦ Download Adda24x7 Paid e-Books PDF
✦ Download All Arihant Publication Books PDF
✦ Download All Kiran Books PDF
✦ Download All History Books in PDF
✦ Download All General English Books PDF
✦ Download All Aptitude Books PDF
✦ Download All General Awareness Books PDF
✦ Download All Geography Books PDF
✦ Download All Economics Books PDF
✦ Download All Polity Books PDF
✦ Download All Banking Preparation Books PDF
✦ Download All SSC Preparation Books PDF
✦ Download All Disha Publication Books PDF

Best Books for Competitive Exams [PDF]
👉 Best Books for SSC Exam Download PDF
👉 Best Books for Railway Exams Download PDF
👉 TNPSC Preparation Books & Study Materials PDF