Download Torrent File Directly Online without Any Application
Would you download the torrent file directly without using the μTorrent or Bittorrent app?. Yes, it is 100% possible today to download torrent files online by download the files directly to your browser without using any app.
Best Way to Download the Torrent Files:
Everyone knows this Answer. Yeah, The Best way to download any Torrent files easily with full flexibility is by using the μTorrent or BitTorrent app. These apps are available for Mobile platforms(Both Android & iPhone) as well as for Desktop Platforms(Both Windows & IOS).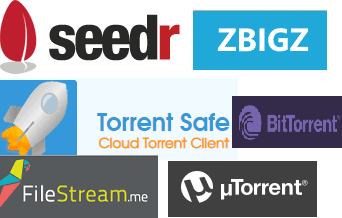 What is Torrent File
Torrent files are small files that contain information on how to download a larger file using BitTorrent protocol. The protocol, unlike HTTP/HTTPS, needs a torrent client for downloading the client. We'll take a quick look at how BitTorrent works and if files downloaded using them are legal and safe.
Download Directly from Torrent File
There are lots of methods and tricks for Downloading Torrents directly from many webs but the better way to use the best method is as follows:
1. SEEDR.CC
It is the only website where you can Download a Maximum File size of up to 2GB for Non-Premium members. For Downloading more than 2GB you should be their Premium Member by paying monthly.  
2. ZBIGZ.COM
It is the Website where you upload and Torrent File and Downloads the Direct File for Free But the Maximum Download File Size should be less than 1GB. If you want to download the File size more than 1 GB you need to upgrade to Premium Account.
3.FILESTREAM.ME
It is also similar to zbigz.com But here Maximum Download File Size is only 200 MB.
4.TORRENTSAFE.COM
This Website is almost as same as zbigz.com.You can convert Torrent file into Direct Download File But FIle size should not exceed 1GB. If you need to download Files over 1GB you should become their Premium Members by paying Monthly.  
How to Download Torrent Files with Size Above 2GB
You have no other way rather than installing these Apps. Torrentz released the Desktop & Mobile Application named as μTorrent and BitTorrent. You can download these applications and Download the Files with Unlimited size.      
For Mobile Users: Go to Playstore and Download the Application Bittorent or μTorrent
For Desktop Users: Go to https://www.bittorrent.com/bittorrent-free or https://www.utorrent.com/downloads/win